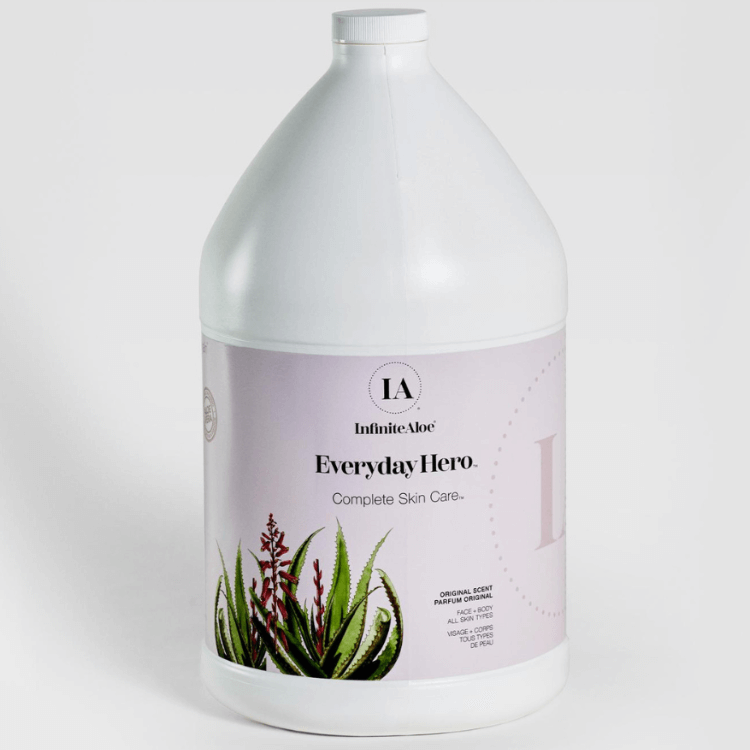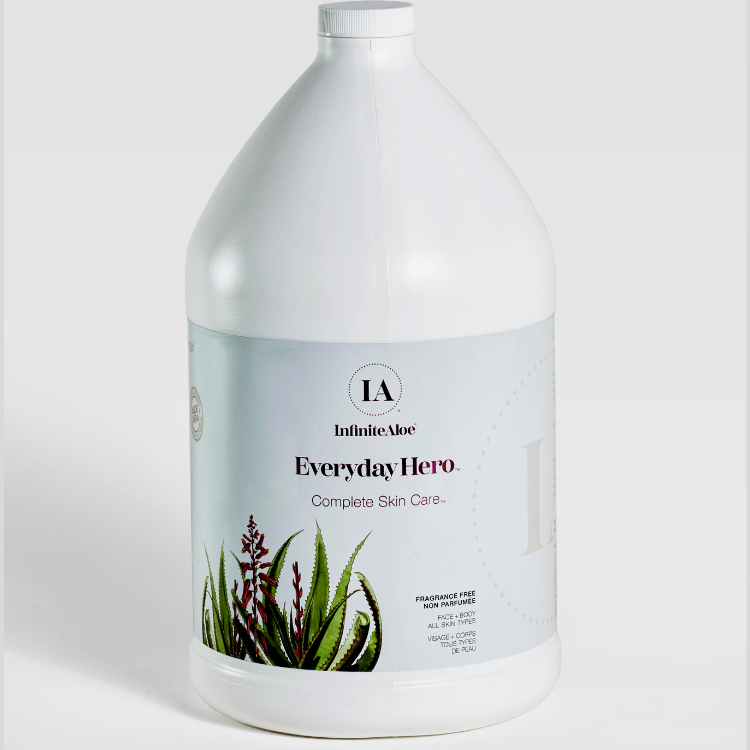 Complete Skin Care
Choose your size and scent
IA Everyday Hero Complete Skin Care formula in original scent or fragrance free, with organic aloe vera and plant-based extracts to achieve softer and healthier skin.
The first and main ingredient is a special type of aloe vera; Aloe Barbadensis Miller.
It is very effective, in fact, so effective that it's used by doctors in burn centers in 15 countries around the world. We grow it organically in the tropics, in the absolute best growing conditions you can find, one of the many secrets that separate IA from the rest.
The main ingredient in other skin products is usually water, oil, butter, or even a harsh chemical, such as mineral oil, but never such a high quality, expensive ingredient as we use in IA.
Aloe vera is a natural miracle by itself and has been used for thousands of years for its skin-nourishing and healing properties. But InfiniteAloe Everyday Hero Complete Skin Care is much more than just aloe. It's aloe plus 30 vitamins and botanical extracts. We add into the aloe vera; hyaluronic acid, collagen, alpha-lipoic acid, vitamin A, vitamin C, vitamin E, DMAE, peptides, and many others.
No petroleum, no wax or plastic. It's an effective, nourishing and complete formula that your skin will absolutely eat up.
Key Ingredients:

Organic Aloe Vera, Green Tea, Hyaluronic Acid, Chamomile, Rosehip Oil, Grape Seed Oil, Calendula, Apricot Kernel Oil, Peptides

Full ingredients list:

The base and main ingredient is Aloe Barbadensis leaf juice (organically grown), the aloe known as 'Aloe Vera' or True Aloe. This is the aloe used in burn clinics, known for its healing properties.

Deionized water, has all impurities removed to safely moisturize your skin.

Glycerin, sourced from kelp naturally hydrates the skin, and makes it soft.

Glyceryl Stearate, a skin conditioner, moisturizer, derived from glycerin and fatty acids.

PEG-100 Stearate has low absorption in skin, and allows mixing of oils and water.

Isopropyl Palmitate (from coconut) is a thickening agent, a lubricant on the skin's surface, giving it a smoother appearance and ultra soft texture.

Cetyl Alcohol, from plants, keeps oil and water from separating, gives spreadability, and foaming capacity. It is well known to effectively condition and soften the skin and hair.

Phenoxylethanol is a relatively gentle bactericide preservative that is considered non-irritating.

Cetyl Lactate is a skin conditioner, moisturizer.

Triethanolamine, pH adjuster and reduces surface tension to enable water and oil-soluble ingredients to mix.

Allantoin, a skin protector, often found in comfrey.

Tocopheryl Acetate (Vitamin E) calms and hydrates skin, blocks free radicals to fight the signs of aging and environmental stress.

Methyl Gluceth 20: noted for its safety, imparts a smooth, silky feel on the skin, used to improve skin hydration.

Polysorbate 80 helps to dissolve ingredients to blend together, making products look creamier and more attractive.

Carbomers are thickening agents, prevent the oil and liquid from separating. Absorb and retain water.

Hydrolyzed Glycosaminoglycans increase hydration, elasticity and firmness of the skin. Easily accepted into the skin, they can improve the appearance of fine lines and wrinkles.

Soluble Collagen; an important structural protein of the skin.

Vitis Vinifera Seed Oil (Grapeseed Seed Oil), which has antioxidants vitamins A, C, and E, is easily absorbed, repairs skin damage, and it is good for mature and sensitive skin.

Zea Mays Corn Oil, organically grown, naturally golden oil to soften skin.

Hyaluronic Acid, critical part of the skin's structure, used by medical professionals on wrinkles. A naturally occurring antioxidant glycosaminoglycan helps retain water in skin, helps tissue, diminish the appearance of wrinkles, lubricate joints and heal.

Thiamine HCL (Vitamin B1), which helps maintain healthy deep skin tissues.

Retinyl Palmitate (Vitamin A) is an anti-aging, anti-oxidant from coconut, not palm oil. Promotes cell turnover in the skin, helps with breakouts, acne and psoriasis. Niacinamide Vitamin B3, increases skin circulation, supports detoxification, increases production of ceramides and fatty acids, two key components of your skin's outer protective barrier.

Thioctic Acid; a fatty acid that generates energy and radiance with vitamins A, B, C and E; in studies it visibly reduced mild-to-moderate wrinkles up to 50%, fine lines almost disappeared to the eye, it reduced pore size, and refined skin texture.

Panax Ginseng Root Extract; traditional lore refines and rehydrates skin, increases skin circulation, oxygenation, detoxification and maintains skin elasticity.

Usnea lichen extract, when used medicinally, is antimicrobial and anti-inflammatory.

Chamomilla Recutita Flower Chamomile: traditionally used for soothing skin inflammations, minor wounds, scars.

Camellia Oleifera Leaf (Green Tea Extract): known as an anti-aging antioxidant.

Calendula Officinalis Flower Extract is traditionally used for acne, eczema, psoriasis, diaper rash and dry chapped skin.

Citrus Grandis Fruit (Grapefruit Seed Extract) is antiseptic, anti-fungal, good for oily skin and acne, may help with wounds and scar tissue, used as a natural preservative in cosmetics.

Ubiquinone, Coenzyme Q10 energizes skin by increasing oxygen in the cells, helping them to repair damage, smooth fine lines, shed toxins, and regenerate tissue.

Hexanoyl Dipeptide-3 Norleucine Acetate (PEPTIDES) has been clinically shown to reduce the depth of lines and wrinkles.

Dimethyl Sulfone, MSM: a source of keratin to promote healthy skin, collagen growth, and elasticity.

Dimethyl MEA (2-dimethylaminoethanol) from vegan source, is known to stabilize cell membranes to reduce normal aging; diminishes the appearance of lines, wrinkles and sagging skin.

Rosa Moschata (Rosehips Seed Oil), a non-greasy oil, known as a natural acne and eczema relief, reduces visible signs of aging, gives glowing skin.

Prunus Armeniaca Kernel Oil, Apricot Kernel Oil; a light oil that easily penetrates skin, helping to control oily skin and maintain moisture in dry skin.

Caprylic/capric Triglycerides from coconut oil and glycerin, repairs skin, resists moisture loss.

Diisopropyl Adipate to act as lubricant on the skin's surface, which gives the skin a soft and smooth appearance.

Ascorbic Acid Vitamin C, a powerful antioxidant and natural preservative.

Lecithin (from soy) which is an emulsifier, letting oils blend smoothly with water-based items.

Disodium EDTA is a preservative, chelator and stabilizer. It bonds with metal ions which maintains clarity and prevents smelling rancid.

Colloidal Oatmeal; soothes angry, itchy red skin, rashes and eczema.


Wash your skin with warm (not hot) water, taking care to use a gentle cleanser.

Within 3 minutes of washing, bathing or showering, apply InfiniteAloe Everyday Hero Complete Skin Care generously to the face and body.

Lightly massage more InfiniteAloe Everyday Hero Complete Skin Care into affected areas, without pulling on your skin. Areas of very dry scaly, itchy or irritated skin (with rashes, eczema, etc.) may need multiple applications every day until the skin is hydrated and nourished.


Tips & Tricks

Make up artists use IA Everyday Hero Complete Skin Care as a primer under makeup.

Mix a dab of IA Everyday Hero Complete Skin Care with your favorite foundation to turn it into a bb cream. It lightly covers blemishes while repairing and balancing the skin.

Keep IA Everyday Hero Complete Skin Care in your first aid kit, suitcase and car: it soothes burns, insect bites, rashes, poison ivy, chafed, chapped skin, and the effects of wind and weather.


Total 5 star reviews: 225
Total 4 star reviews: 19
Total 3 star reviews: 2
Total 2 star reviews: 3
Total 1 star reviews: 5
96%
would recommend these products
Customer-uploaded media carousel. Press left and right arrows to navigate. Press space or enter to open more details.
Slide 1 selected
DE

Yesterday

Reviewing

Complete Skin Care Pack

3 Decades

Three decades ago, my mother was sold a jar in the streets of Las Vegas and has been using this cream ever since. My mother and next month will be 80 years old. She had a scar on her face when she was eight years old and this cream took that scar away she swears by this cream, uses it all over her body and my mother looks like she's 60 years old. I have been using this product for over 20 years now and nobody can believe my age. I also use it all over my body and I am so sold and share with everyone. I know about its healing, moisturizer, and all around young looking benefits. I have tried many expensive products on the market throughout the years, but there is not another cream that I will never trust on my body again. This is my 80 yrs young mom!

Reviewing

Half Family Pack - Face and Body Cream

Customer For Life!

I have been using these products for over ten years and will use them forever! I will turn sixty-three-years-old next month and have ZERO wrinkles on my face! I use this twice a day; as soon as I get out of the shower in the morning and as soon as I take off my makeup in the evening. This cream goes on my face before anything else. I 100% credit Infinite Aloe for my great skin! Thank you SO much, for providing such a wonderful product for such an affordable price!

AO

6 months ago

Reviewing

Trio Pack - Face and Body Cream

You Deliver What You Promise!

I'm a customer for life and plan to tell everyone I know about Infinite Aloe and your superb customer service. Why? Because your product delivers all you promise! This is refreshing in a day and age of over-promising and flawed hype. Thank you!

Reviewing

Half Family Pack - Face and Body Cream

Great face Cream

Great face cream, using aloe cream for years has help slow my aging looks by years. Great product….

Reviewing

Trio Pack - Face and Body Cream
Reviews Loaded
Reviews Added